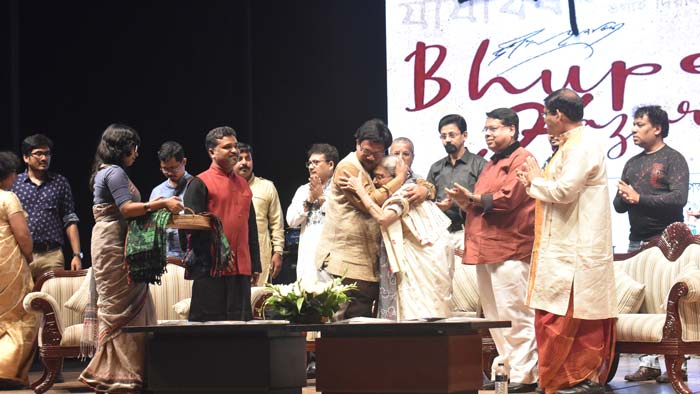 Organized by the Shilpakala Academy in Bangladesh and the exception of Masdow, the renowned music director of the subcontinent Dr. On the occasion of the seventh day of Bhupena Hazarike, the debate was held at the National Theater Auditorium in the hall on Sunday, and today it is possible to organize a cultural program.
At the beginning of the ceremony, in the memory of the artist and the lighting of Mars, a minute of silence was observed. Later, Director of Academy of Liaquat Ali Lucky later submitted candidacy. Meanwhile, Masdow gave 18 books and two documentaries of his works, including the autobiography of Bhupena Hazarike, submitted to the General Director of Shilpakal Academy.
Sadhakshina Sharma, sister Bhupena Hazarike, who was the occasion for a special guest, discussed the autobiography of the artist Padma Shree Surukkanta Hazarika, a writer of autobiography. He also participated in the debate. Souman Bharatiya and Dr. Timir Dey and chaired by Shilpakala's Bangladesh Chief of Staff, Ritik Datyan, Liaquat Ali Lucky.
After the discussion, the festival was attended by musicians Sadhakshina Sharma, Liaquat Ali Lucky, Rishiraj Sharma and others. Sangeeta Kakati and Abhijit Kumar Barua. Dhaka Sangskritik Dal and the dance drama Bangladesh Shilpakala Academy have performed together at the concert. Sadhakshina Sharma and Rishiraj Sharma perform music at the beginning of the festival. Dancing Dance Dance with the song "Ebar di Dalan kotha", "Today's life is found … & # 39; and wide on both sides … & # 39; dance drama Bangladesh Shilpakala Academy Artist Yasmin Ali has performed the song "Summary of This Night My #"; Also, musician Roksan Rupsa, Sohanur Rahman and Suchitra Rani from the Academy serve music. At the end, all the artists of India and Bangladesh simultaneously use the song "People for People, for Life".
AC