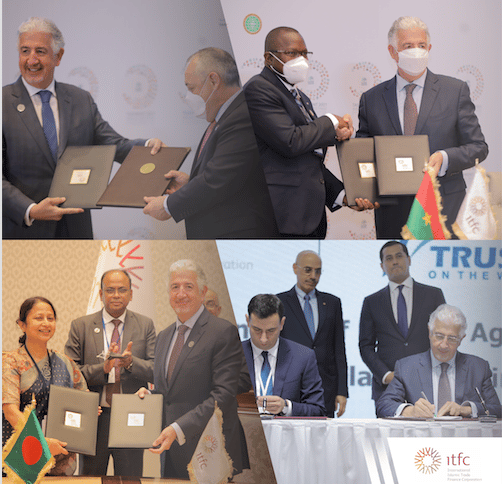 [ad_1]
Jeddah, Saudi Arabia, 16 September 2021 – The International Islamic Trade Finance Corporation (ITFC), a member of the Islamic Development Bank Group (IDB), has signed ten major trade finance agreements worth over US $ 1.2 billion and signed trade development agreements with its Asian and African member countries. Earlier this month at the 46th Annual Meeting of the IDB Group in Tashkent, Uzbekistan.
Supports public and private sector funding framework agreements as well as trade-related technical assistance programs for export development and small and medium enterprise development initiatives, especially in the agriculture and energy sectors, targeting high-growth industries and purchasing essential medical care. Equipment.
Honey Salem Sonball, CEO of ITFC, said: We are proud to sign 10 Trade Finance and Development Agreements at the 46th IDB Annual Meeting. The impact of these agreements will be significant on the population and will significantly enhance the economic prosperity of our member countries. This important milestone reaffirms the mutual trust between these and the ITFC teams and our commitment to support the economic growth of OIC member countries, especially during the difficult times of the Kovid-19 epidemic. "
Financial Agreement:
Signing of a $ 1.5 billion supplement between ITFC and Burkina Faso: The five-year US $ 1.5 billion framework agreement between ITFC and the government of Burkina Faso was first signed in October 2018. After the Kovid-19 crisis, Lazan Kabor, CEO of ITFC and Minister of Economy, Finance and Development of Burkina Faso, signed. Supplement to the Revised Framework Agreement. The ITFC assists in financing Burkina Faso's priority projects in the agricultural, health and private sectors, including the export of agricultural products and the import of energy products such as crude oil and products. Implementation of technical assistance programs for refined petroleum products, pharmaceuticals and health equipment and strategic sectors of the national economy.
Signing of a 3 330 million framework agreement between ITFC and the Comoros Association over three years: To strengthen cooperation between the ITFC and the Comoros Association, the Director General of the ITFC and the Deputy Governor of the Comoros, Fowdie Guleme, signed a three-year, 30 330 million framework agreement to support the country's food supply. And energy security by importing strategic products such as petroleum products, rice and other foodstuffs in line with the national development objectives of the Comoros. The agreement will support the health sector and small and medium enterprise financing, as well as provide technical assistance projects to support the country's national development goals.
Signing of several Mauraba Agreements between ITFC and Mauritania as part of the 2021 Action Plan: Mauritania's Finance Minister Mohamed Lamin Old Debi and ITFC Director General sign a Murabaha Trade Finance Agreement to support the Sri Lankan healthcare sector. Under the agreement, ITFC will provide $ 10 million to KMEC, a government agency responsible for the distribution of drugs in the public sector, and an additional $ 20 million for SNIM, which conducts research, manufacturing and marketing. Pottery and Ceramics Iron ore. A renewal agreement was also signed with Somelek, a public company responsible for ensuring the country's energy security (power generation) to support the national development objective in the energy sector.
Changing the Framework Agreement with Uzbekistan: A $ 500 million agreement between ITFC and the Republic of Uzbekistan was signed in 2019. The purpose of this amendment is to expand cooperation by adding new sections, extending the validity of the agreement to an additional year, clarifying the existing text and above all the funding period from 12 months to 24 months. This extension allows ITFC to better meet the financial needs of government agencies and the private sector in Uzbekistan. The document was signed by Shukrat Wafev, Deputy Minister of Investment and Foreign Trade of the Republic of Uzbekistan (Deputy Governor of IDB).
As part of IDB's 3R program, the Murabaha Agreement was signed under the $ 500 million Framework Agreement signed between Uzbekistan and ITFC in 2019 to help small and medium enterprises recover from the negative effects of the COVID-19 epidemic:
Trust Bank: Signing of a US $ 15 Million Commercial Financing Agreement between ITFC and Private Share Banks Trust Bank. ITFC General Manager Honey Salem Sonball and its Chairman Sardar Normukmadov signed a $ 15 million Morabaha to cater to the foreign trade finance needs of the private sector and small and medium enterprises. With the signing of its third financial facility in Uzbekistan, Trusteebank, an existing partner, will become an active partner of ITFC, a private sector private company in Uzbekistan.
Integrated retail solution
Turonbank signs a $ 10 million commercial loan scheme between ITFC and its joint venture bank, Turonbank. ITFC has signed a $ 10 million watchdog deal with commercial bank Turonbank to cater to the trade finance needs of private sector and bank small and medium enterprises.
Turinbank: Technical Support Agreement between ITFC and JSCB Turinbank on Capacity Building for IFRS Reporting. ITFC will provide a technical assistance project for the benefit of local bank Turunbank to enhance its capabilities as part of its new strategy for providing integrated trade solutions for the benefit of its member countries. Converting its financial statements to IFRS.
Complementary to Financial Agreements:
Change of the Mauraba Trade Finance Agreement between the STO and the Maldives to US $ 75 million to finance the purchase of fuel and staple food. Hussein Amru Mohamed Rashad, Managing Director and Managing Director, State Trade Organization (STO) and Hussain Amru Mohamed Rashad, Managing Director, ITFC, signed a renewal of the Funding Agreement. Through this agreement, ITFC will support STO financing for strategic products such as petroleum products and staple food imports. These funds are essential to ensure the livelihoods of the population and to revive the tourism sector for the economic growth of the country.
Agree on a $ 50,000 agreement to finance medical equipment in Bangladesh. The agreement was signed by the Government of Bangladesh, Fatima Yasmin, Secretary (ERD), Economic Relations Division (ERD), Ministry of Finance, People's Republic of Bangladesh and Deputy Director General, IDB, and Director General, ITFC. Supply of five machines to public hospitals in Bangladesh which are not facilitated due to the influx of patients with COVID-19 disease. The project will strengthen the country's capacity for epidemic preparedness and response by providing appropriate treatment for the critical condition of Kovid-19 patients.
A Memorandum of Understanding (MoU) is signed between ITFC and the International Islamic Partnership on Food Processing to expand financing for private companies in the agricultural sector. IFPA CEO Sheikh Bilal Khan and ITFC Managing Director signed a Memorandum of Understanding (MoU) to provide financial access to small and medium enterprises through local banks and to support agri-production chains for private sector enterprises. The IFPA is one of the strategic initiatives proposed by the Islamic Organization for Food Security at the Second General Assembly in Jeddah, Saudi Arabia in August 2019. IFPA supports the emergence of agri-food companies to strengthen food security. Global COVID-19 epidemic through the search for growth opportunities.
About the International Islamic Trade Finance Corporation (ITFC)
He is a member of the International Islamic Trade Finance Corporation (ITFC) Islamic Development Bank (IDB) team. Its mission is to promote trade between OIC member countries and ultimately contribute to its primary goal of improving the socio-economic conditions of people around the world. Launched in January 2008, ITFC has provided over $ 58 billion in financing for trade in OIC member countries, making it a leading provider of trade solutions to meet the needs of OIC member countries. By taking on the role of a catalyst for trade development in OIC member countries and beyond, the Corporation will make it easier for member countries' institutions to obtain trade credit and provide tools to build their capacity in this trade sector. To be competitive in the international market.
[ad_2]
Source link