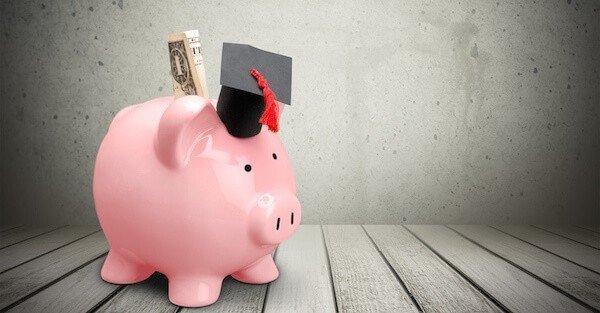 This month, college freshmen across the United States are settling into their new lives.
For the next four (or five … or maybe even six) years, they will be immersed in safe spaces and bombarded by a repulsive and hyper-socialist retiree.
Then, in the end, they will leave with a degree of questionable use … but they will also leave with TONS of DEBT.
Consumers are late until the end of 2018 with over $ 4 trillion in debt. And $ 1.5 trillion of that is student debt (more than credit cards and car loans).
According to the latest statistics, the average student debt in the United States is almost $ 40,000.
But it's only average …
There are more than two million former students in the Land of the Free with over $ 100,000 of debt … about 415,000 people have more than $ 200,000 of student debt.
Yet, while the cost of university education and student debt burden are growing, wages are stagnant.
So you're paying more and more for something that offers stagnant value.
It's the definition of a bad deal.
Yet, every year, hordes of young people line up for this punishment. Then they graduate, in debt to the state, without a clear path to follow.
Fortunately, students have options.
You do not have to be a debt servant for the rest of your life to get an excellent education.
Going abroad is an option.
By enrolling in a foreign university you will surely live your resume. But it also gives you a global network, exposure to new cultures and greatly expands your job search.
But one of the greatest benefits of international study is the low cost.
There are many countries where you can study at a high-level university for a fraction of the cost at home.
And, as an added bonus, study abroad is a great way to get a foreign residency and maybe even a second passport.
A foreign residence and a second passport are components of what I call a plan B.
The residence abroad guarantees that regardless of what happens (or does not happen) in your country of origin, there will always be somewhere else where you and your family are invited to live, study, work, invest and do business.
In addition, most countries have rules that allow legal residents to apply for citizenship and passport after a certain number of years.
And if you choose the right country, in addition to a low-cost (but high-quality) economic education, you will also have huge entrepreneurial and business opportunities after graduation … all in one place.
Estonia, in the extreme north of Europe, is a country that offers enormous opportunities for a young person.
Firstly, the University of Tartu (in Tartu) is a world-class research university – among the top 1% of the world's top universities, in fact. It offers 23 programs in English, including computer science, robotics and computer engineering, software engineering and others … for only € 2,000 ($ 2325) per semester.
And when you graduate, you can stay and work for an Estonian startup, or start your business. Both Skype and Transferwise were started in Estonia.
If you complete the university in Estonia and stay in the country after graduation, you may be eligible for a permanent residence three years later.
(This means you can come and go as you please and travel / live freely throughout Europe, from Ireland to Switzerland to Croatia.)
This is a world-class education for a fraction of the cost and a clear path to residency in another country. And you have expanded your job prospects in another continent.
But Estonia is not the only country where you can receive an excellent low-cost university education.
Average annual School fees in Germany are less than $ 1,000. And Germany grants the non-graduates of the European Union (EU) an 18-month residence permit to find a job. (The clock starts ticking when you receive the final exam results.)
When you find a job, you can apply for a residence permit in Germany or an EU Blue Card that allows residency throughout the EU. After two years, you are eligible for permanent residence in Germany.
Before taking a huge amount of debt for a certain degree of questionable value, remember that there are ALWAYS other choices.
Source link