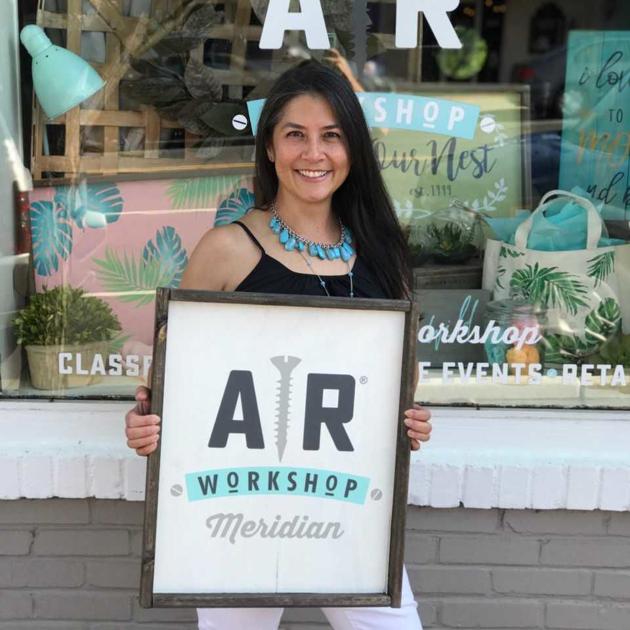 Resident at Meridiana Athena Harrison has always loved to create.
"There's a maternal bloodline in my family of creativity," Harrison said. "I've always been someone who's a handyman – someone who wants to try different things in the creative world."
Harrison is the owner and manager of AR Workshop in Meridian, a do-it-yourself boutique studio opened in mid-November at 830 N. Main St. # 110.
The shop will host workshops, where participants can sign up to learn how to build household items, such as photo frames, canvas cushions and signs for the porch. The shop will also have home decor on sale. Residents who have something specific in mind will be able to order it from the store.
The Meridian study will be one of more than 90 AR workshops in the nation, but the first in Idaho.
The AR Workshop stands for Anders Ruff Workshop, the names of the two AR Workshop founders: Maureen Anders and Adria Ruff, according to the AR Workshop website.
Do you want more news like this in your inbox every morning?
Harrison became aware of the AR Workshop while living in Washington. He said he loved the possibility of signing up for online classes and not worrying about collecting materials in advance.
"Basically I could sit on my hiney on that chair and they would teach me," he said.
Harrison said that he would "have fun" with his friends and ended the session with a beautiful piece for his home. After her experience, she decided she wanted to open a shop in Meridian, where she was about to move with her husband and family.
"I love the community and make people happy – this is just an extension of this," Harrison said.
He said that people are always happy and proud to show their creations. Harrison said he sees the AR Workshop as an event center that brings families and friends together.
When open, the store will have five to six workshop tables that can accommodate six to 36 people. He said the store will also have a snack bar area.
Source link