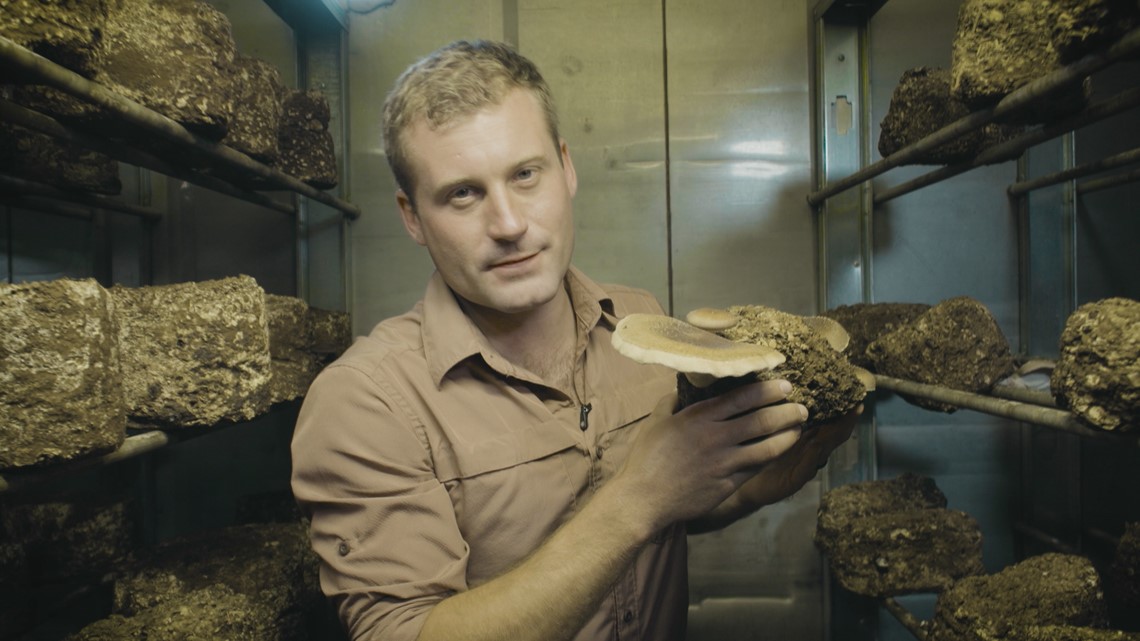 MARYSVILLE, California – If you're viewing on the ABC10 app, touch here for media content.
The mountain of compost is dark brown, and quite warm in the middle that is smoking, even during a hot summer day in Marysville. For the people of Mushroom Adventures, the stinking mound is invaluable.
"This is our black gold … our mushroom compound," said owner Donald Simoni. Basically, it's a bunch of mushroom based food.
When asked about the heat, Simoni replied: "It's the thermal biology … it's the microbes". Compost is a living organism that can generate heat up to 150 degrees.
Getting the right compost is not the only challenge. Agriculture on the Mushroom Adventures scale also requires the right amount of humidity and an air-conditioned room. Inside the Simoni structure, it is like an alien world and the earthy aroma is hard to ignore. Mushrooms of all shapes and sizes fill the dark and smoky building. Portobellos, shiitakes and white mushroom buttons are everywhere you look.
Donald and his crew grow mushrooms for sale to farmers' markets, but they also sell boxes containing everything the fanatics need to grow at home. Mushroom cultivation is a complex proposal, but this is the beauty of its kits. The difficult part was taken care of.
Ready to try agriculture? Maybe start small with a patch of mushrooms.
Pedro Garcia
"Let's put that little piece of mycelium here, and everywhere it creates a connection from the top down, and that's where a mushroom comes out."
In simpler terms, you get a box from Mushroom Adventures, so keep the soil wet. You should see the mushrooms in seven days. Generally it takes five weeks for the mushrooms to mature.
That process is where Simoni took the name for his business.
"The adventure is watching them grow from a box of earth or sawdust and turn into a consumable," he said.
Continue the conversation with John on Facebook.
© 2018 KXTV
(function() { var modules = [ 'error', 'page', 'grid', 'desktop-header', 'toolbar', 'weather-summary', 'navigation', 'video', 'throbber', 'utils', 'fitted-headline', 'forecast', 'article', 'continuous-scroll', 'sharing', 'gallery', 'radar-gallery', 'forecast', 'article-crosspromo', 'featured-videos', 'chapter-slider', 'pollen', 'olympics-live-stream', 'three-day-outlook', 'current-weather', 'search-results', 'tracking', 'chapter-progress', 'progress', 'countdown-clock', 'longform-explore', 'media-gallery', 'social-sharing', 'weather-alerts', 'weather-interactive-radar', 'closings', 'tealium', 'alert-bar', 'cookie', 'sticky-sharing', 'live-indicator', 'sharethrough', 'taboola', 'elections', 'just-for-you', 'just-for-you-li', 'olympics-tv-listings', 'headline-list-with-abstract', 'text-only-headline-list', 'story-snapshot-with-abstract', 'snapshot', 'story-snapshot', 'special-content-headline-list', 'notfound', 'linked-image', 'article-recirculation', 'linked-image-with-title', 'newsletter-signup', 'linked-image-with-title', 'newsletter-signup-multiple', 'live-videos', 'breaking-news', 'weather-alerts', 'closings', 'media-gallery-alt', 'alert-center-menu', 'trending-list', 'toc', 'featured-radars', 'searchbox', 'hot-races' ]; require.config({ 'baseUrl': '/', 'deps': modules, 'waitSeconds': 30, 'bundles': { 'modules': modules }, 'paths': { 'jquery': 'scripts/jquery-3.1.1.min', 'jwplayer': 'content/player/jwplayer.js?version=2.24.9', 'modules': 'Views/dist/scripts/modules.min.js?version=2.24.9', 'facebook': 'https://connect.facebook.net/en_US/all', 'twitter': 'https://platform.twitter.com/widgets', 'slick': 'content/libs/slick/slick.min', 'dotdotdot': 'content/libs/dotdotdot/jquery.dotdotdot.min', 'jqueryui': 'Views/lib/jquery-ui/jquery-ui.min', 'comscore': 'content/libs/comscore/comscore.min', 'stickyfill': 'content/libs/stickyfill/stickyfill.min' }, 'shim': { 'facebook': { 'exports': 'FB' }, 'twitter': { 'exports': 'twttr' }, 'jwplayer': ['jquery'], 'jqueryui': { 'deps': ['jquery'] }, 'slick': ['jquery'], 'dotdotdot': ['jquery'] } }); })();
Source link