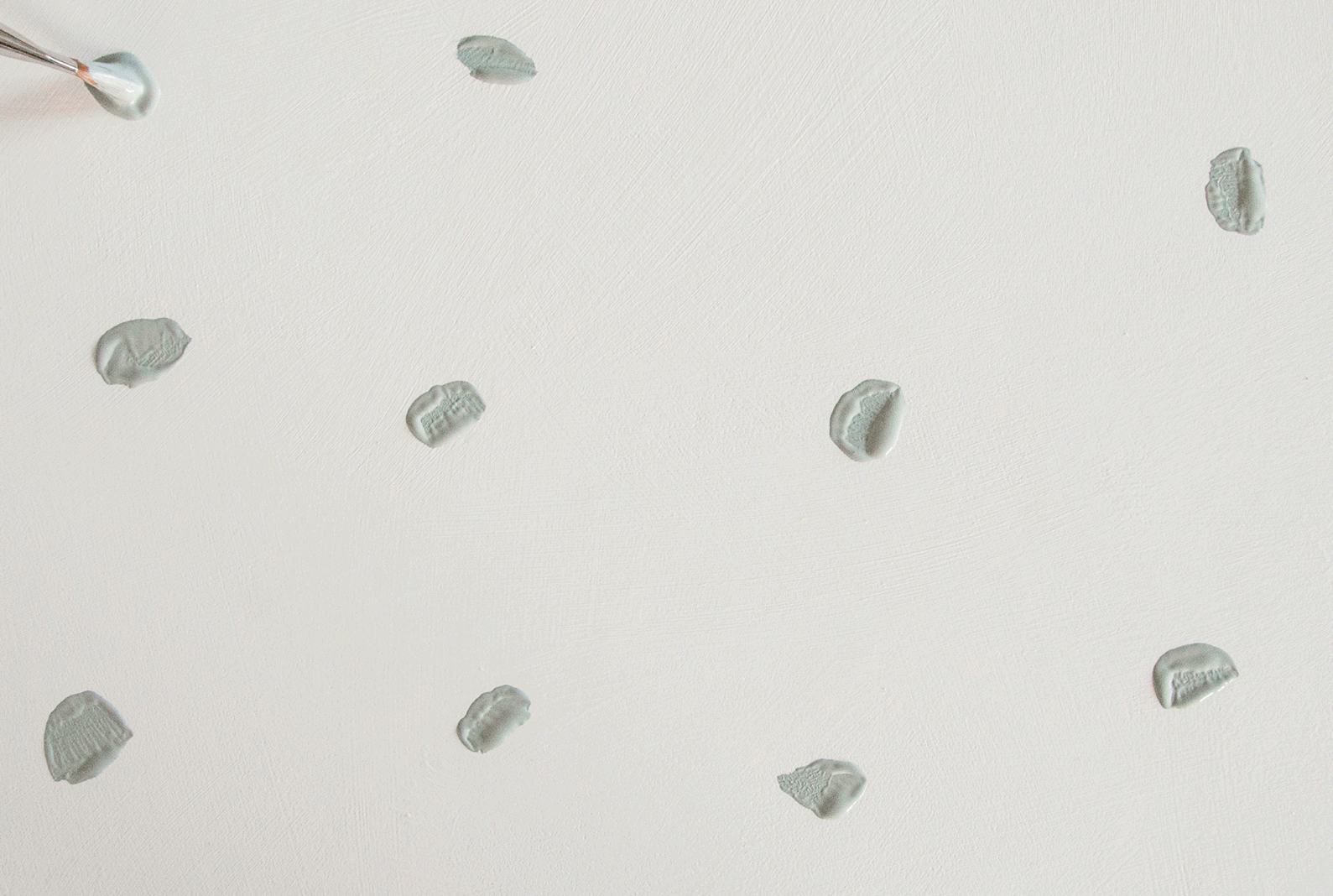 Let's admit that we are a bit obsessed terrace. First, there is the story of the return: a material used for public school floors gets a second wind as a trendy interior design option (see: the California home, full of terraces by Mandy Moore). Then there is the look, at the same time playful and elegant, a soup of disparate colors that somehow all work together in the same shiny surface. Which brings us to the unfortunate fact of the matter, which is that the terrace, a material made with the accurate setting of colored chips of marble, quartz, granite or even glass in a concrete surface like concrete, is rather incredibly expensive. It's not the kind of thing you'd choose to work, willy-nilly, in your new apartment. And unless you're renewing and can do something smart to try false-terrace ant ceilings, your next best bet is to to paint it.
Before running in another way screaming, please note that this is one of those do-it-yourself that requires painting skills from scratch to negative. All you need is a bit of time, a couple of colors in color and some brush sizes. Do-it-yourself teacher Annie Sloan, the inventor of the much loved material known as Gypsum paint, he gave us the low-down on how to paint a terrace wall (or floor, or table, almost any surface) using paint. The great thing about using plaster for this do-it-yourself is that it will stick to almost any surface without preparation, so you can prepare a stool or a floor or a wall in the terrace without first sanding or to lure!
Things to get before starting
<figure class = "embedded-image" data-id = "5bb26545d249622e01c31099" data-caption = "
A variety of plaster paints and dimensions of the brush.
"data-type =" image "data-reactid =" 178 ">
_White paint to imitate the concrete background
_Live to seven colors of painting, to imitate the pieces in relief (Annie has used Duck Egg Blue, Antoinette, Paris Gray, Paloma, Coco, Louis Blue and Burgundy here)
_ Washed plaster color, if used plaster painting
_3-4 small brushes of different sizes
How to paint a terrace surface
1. Create the background. Apply two coats of white paint on the surface you are turning into a terrace. If you are using chalk painting, take Annie's advice and dilute it lightly with water to give the background a smooth surface.
2. Using one of the colors, paint a smattering of stains on the surface. Select a brush size, any brush size and use it to paint random spots on the surface in one of the colors. Do not think about it too much: the point is that the signs are imperfect, the way in which pieces of marble are on the terrace, so any kind of uncomfortable stain from the brush will do it.
3. Switch to the next color and repeat. Select a different brush size and a different paint color and use this combination to paint uneven spots across the surface. These marks should not touch the first signs and their spacing should be uneven. Just dab the brush at any point where you see a lot of white.
4. Repeat with all colors or until you run out of white space. "The signs will be thicker and higher in some places, that's good!" Says Annie. Once you are satisfied with the relationship between points and white space, let the surface dry overnight.
5. Seal, if using plaster painting. If you use plaster paint, we recommend sealing it by applying two coats of Clear Chalk Paint Wax with a lint-free brush or cloth (this will sufficiently protect the created pattern). Allow to dry overnight and polish with a clean cloth in the morning if you want it to have a slight shine. Or not, if you prefer a matte finish.
And if you'd rather see it done like a video, Annie to the rescue:
Source link