Thanks to our fans of AMEOWZING, Cole and Marmalade have been named finalists in these years IS! People's Choice Awards!
As of September 5th, fans received 10 days to vote for their favorite candidate among 12 potential clients hoping to reach the final. The first 5 of each category were announced on September 24th.
Below are all the options for voting The Animal Star of 2018 (#TheAnimalStar)
Voting methods:
On line –

https://pca.eonline.com/#vote/cat39

Facebook

–

Fans can post publicly or privately and include hashtags: #TheAnimalStar #ColeAndMarmalade and #PCAs

chirping

–

Fans can send public tweets or retweets and include

hashtag: #TheAnimalStar #ColeAndMarmalade and #PCAs

Xfinity

–

Fans can cast their vote for the "The Show of 2018" category using their X1 remote or using the voice command option with the phrase "Vote for Choice Awards"
Fans can vote up to 25 times per method, per category, per day if they vote through online, Facebook, Twitter!
For Google search, users need to log in to their Gmail account and can vote up to 25 times per session per category. If fans vote with Xfinity, there is a limit of 10 votes per candidate, per set-top box.
THE VOTE ENDED ON 19 OCTOBER !!! Do not forget to tune in on the ceremony on E! November 11th "fur" results!
Cole and Marm face a tough competition. We are confident that the boys can succeed in their CATegory however … Just as they did every time they had to face difficulties over the years.
The main objective of Cole comes from its solitary beginnings on the streets.
Like a small ball of fluff, it was found in a busy intersection in the darkness of the night.
It is a miracle that his 6 ounce black-haired body was even seen by our friend when he looked in the rearview mirror!
It was then that he learned in first person the hard lesson that black cats (and dogs) are less likely to be adopted and usually the first to be euthanized in shelters! He was refused by 3 shelters before having a text with his photo and immediately said "yes, we take it in the morning!"
Fortunately, through his adorable face, we started the journey in social media. This allowed us to share the situation that these worthy animals face and to help erase the stereotype and stigma associated with black cats.
Then came Marmalade.
The only survivor of a litter of 3, was about to be left out to "live" in an area with a high population of wild cats. Another friend of the family knew that we had expressed interest in a playmate for Cole, perhaps one of the "purrsuasion" with ginger.
Seeing his face for 2 months, we knew it was meant for us. NO animal deserves to be put out for itself.
Marmalade and Cole soon became best friends.
Their antics have brought endless hours of joy, not just to us, but to the growing fan base and followers on YouTube and Facebook.
Tragedy struck when Marm was only a year and a half old. In 2014, the vet found a tumor in his gut and underwent surgery to remove it.
He bravely passed the surgery, only to find out that the tumor was carcinogenic. Jam lymphoma and when his blood has been tested, it has now been found to be FIV positive.
At his young age, his FIV o Feline immunodeficiency virus, was probably transmitted by his mother. Later we confirmed that the original owners KNEW his mother was FIV +, he did not tell us and did not sterilize it. In the end they did it, but the damage was done.
The jam has spent the next 4 months with chemotherapy sessions, each week having to go to a specialized veterinarian 30 minutes away. Although NOT a veterinarian, he did his best in stressful circumstances.
And his fighting spirit has won cancer!
Chemo was successful and now, in 2018, is happily in remission, working hard to stay strong and live a long healthy life.
This is what we think of cancer.
Now he can show his support and support the adoption of FIV + cats, teaching the world that this is NOT a death sentence as previously thought!
Both boys could have lived a very different life and, unfortunately, very short, in other circumstances. We are reminded of this day when we work with local shelters and relief groups throughout the United States.
Daddy Chris Poole, o Cat Man Chris, loves spending time volunteering with Big Cat Rescue, feeding and practicing the TNR (Trap-Neuter-Return) on local wild colonies, saving cats and kittens from hoarding situations and creating fun and educational videos to help promote these important causes.
I'm backstage when possible, but my name is Jessica Josephs or JessiCAT.
My crazy cat condition reached new heights when I started crocheting cat toys for a local relief group to help raise funds. Since then, I opened one Etsy store to help save feline rescue efforts for families. The cardboard cards you see in the videos are probably the result of my crafty brain and obsessive personality =)
I also write articles for our website to highlight cat lovers and news from around the world!
Returning to Florida, we began promoting a Tampa-based organization and abandoned neonatal kittens. This led to the expansion of the family with two other saved kittens who joined the family.
Females Juggernaut, o "Jugg", is Zig Zag, they were both saved from certain death on the streets and welcomed into the mad cat house.
Promoting promotion has now taken on a new role in family catty efforts, having experienced the first paw how difficult it can be.
And it all started with Cole and Marmalade.
We can not imagine what our lives would be without the boys. If every moment was not full of feline fun, crazy chaos or sharing our voices for the voiceless, I'm not sure what we would do !!! LOL
They are our "inspirations" and we could not do any without their unique "purronsalities" and stupidity to guide our goal of helping as many cats as possible.
Not to mention the minimum amount of cat games we would probably have in our lives.
This is why the boys deserve to be The Animal Star of 2018; an honor they would be happy to share <3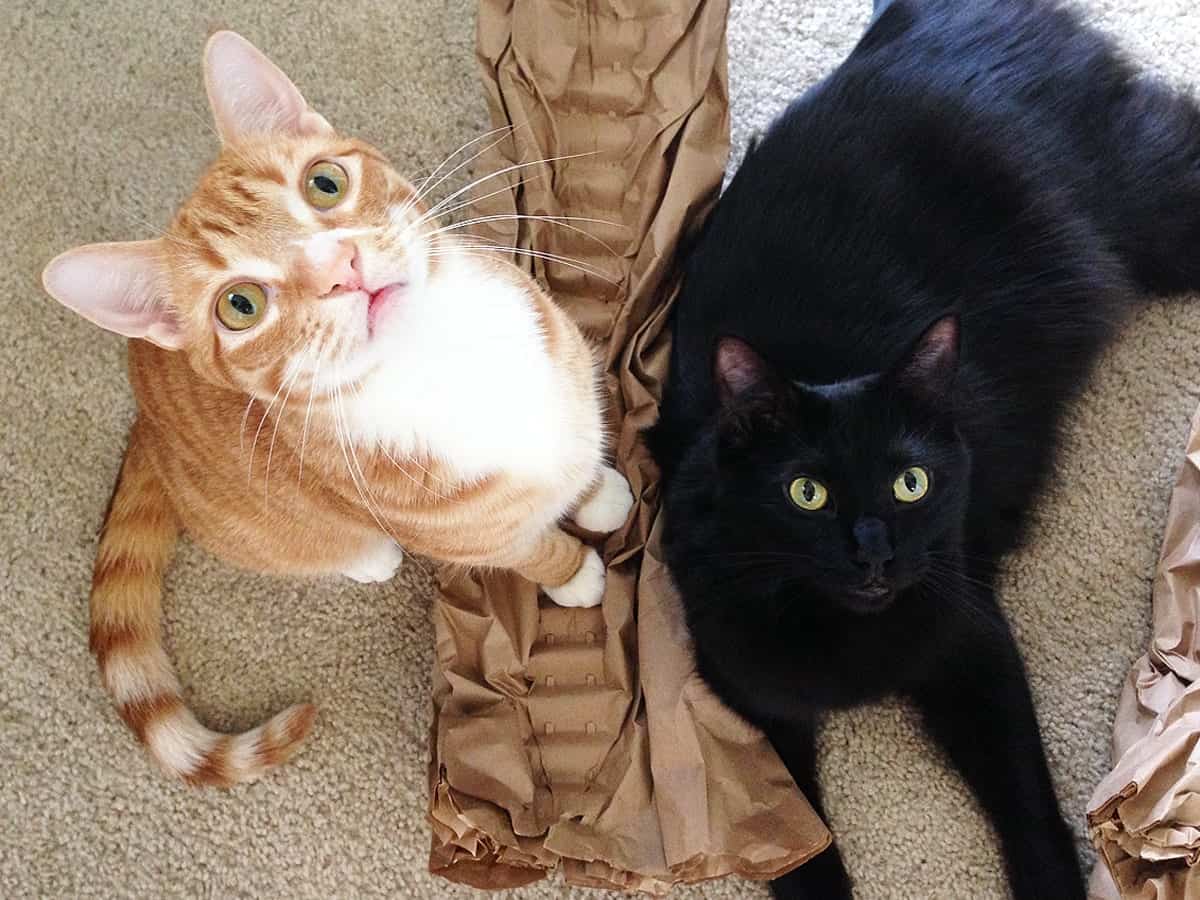 Take a look at the Cole & Marmalade store! — CLICK HERE
Source link