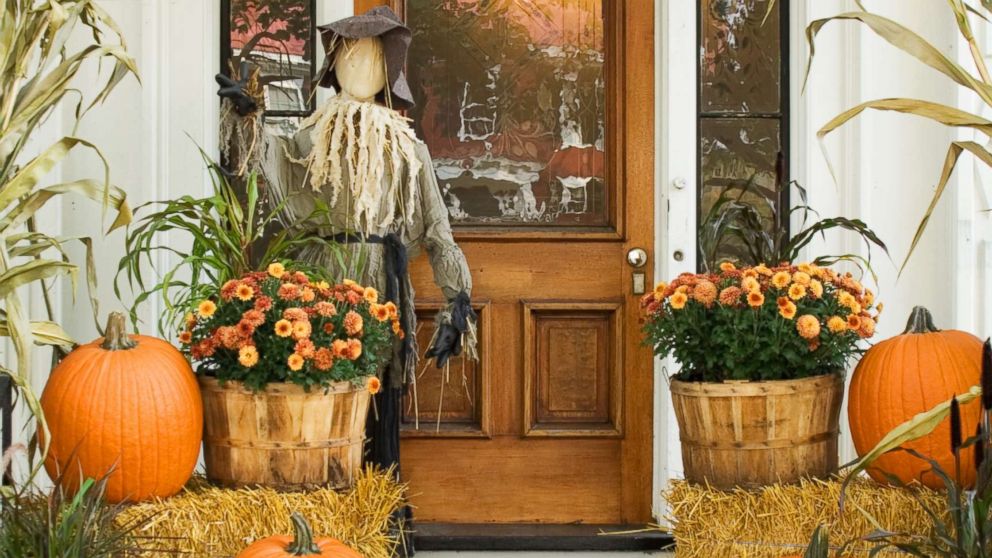 The do-it-yourself guru, Brit Morin, founder and CEO of Brit + Co, shared his favorite hack on "Good Morning America" ​​to turn your summer decors into some trendy pieces for the 39; fall. Read below for his hacks and to know how to create each project by himself.
It is officially autumn, which means colored leaves, windy days and all seasoned with pumpkin. It also means that it is so embarrassing, in the interim time, when the weather is still warm and we have not packed our summer furniture enough. With all this in mind, I recently stopped at "Good Morning America" ​​to showcase some of my favorite ways to reuse the classic summer essentials in autumn goodies. Look at the segment below, so scroll through the details on each do-it-yourself!
1. Chai Ice Cubes
While we wait impatiently for the weather to be cold enough to warrant a hot smoky chai tea, these ice cubes will do the trick. If you find it still too hot to jump on the hot milk train, turn your chai tea into ice cubes. Prepare a good dose of hot chai tea: try 8 tea bags in 4 cups of boiling water, then let it rest for 10 minutes. After the tea has cooled slightly, add to the ice cube trays and freeze overnight. To serve, fill the glass with chai ice cubes, then add the preferred type of milk. As the ice cubes melt, the drink will become stronger.
2. Turn a noodle into a fake autumn wreath
Yes, you read correctly! Pool noodles are actually perfect for garland production. Create a circle with adhesive tape, securing the ends together – you may need to cut the ends first with a corner – and then wrap the dough with a thick ribbon. Use a hot glue gun to add fake flowers. And you're done!
3. Store the flowers in the summer garden by drying them
Instead of letting your summer flowers wilt, try drying them for a long-lasting interior décor. Just cut a bunch of flowers, cut the leaves, then tie them together with the string at the base. Hang the bunch upside down in a cool, dry place for 2-4 weeks. Once they are completely dry, spray on a coat of aerosol spray – this will prevent the petals from falling off the bouquet. There!
4. Too many icicles left? Make Poptails.
Raise your hand if you still have a freezer full of icicles! I see. Instead of throwing the delicacies once the time goes, turn them into cocktails alias popsicle cocktails! This is crazy easy. All you have to do is pour the Prosecco into a wine glass, then add your icicle to the drink. Use the stick as an agitator and sip. Here's another idea: drop the icicle – sans stick, of course – in a blender, add your favorite liqueur. You've just turned into a tasty shell.
5. Use a floating pool as a table at your next hatch
I love the simplicity of this! Put a floating pool with edges on a bench or table, fill the floatie with ice, then add your perishable dishes or cold drinks on top. That's all!
6. Create a rain chain in the shape of a shell
I often find myself coming back from beach holidays with handfuls of shells – and nowhere to put them. I sigh. So this simple and sweet do-it-yourself came to my mind: build a chain of rain with shells! Use a rust-resistant wire to wrap the shells and secure them to a rust-resistant chain. Attach the chain to the gutter and the ground directly below. When the rain comes, the water runs through the rain chain from the gutter. Now, every fall, I plan to add the shells of my summer to the chain. Clean, eh?
7. Create a garland of dried fruit
Turns out, drying the fruit is super simple to do at home. Create this living garland with eucalyptus branches, a frame of wicker wreath and dried citrus slices. Just slice grapefruits, oranges, lemons and / or red oranges in wheels, then bake at 200 degrees Fahrenheit for three hours. When they are completely dry and fresh to the touch, hot glue or wire wrap them on the garland.
8. Add shells and sand to the pots
Here is another use for those shells of the summer holidays: add them to the pots! Fill a tall vase with sand – bonus points if this sand is also on your holiday – and tuck the shells on the sides. Top the sand with a live air plant or a fake plant. Here it is!
Source link